This 7-passenger minivan has a 1.3L petrol engine that is more fuel efficient and quieter than ever. Available in manual or CVT transmission, equipped with a large range of features you can choose the one that is made for you. Redesigned with originality both inside and outside, the Avanza offers versatility, with its seating configuration, making it the perfect solution for large families. Take advantage of this unprecedented layout flexibility for safe journeys in town and on the road.
---
Technical Specifications
ENGINE
Displacement (cc) : 1329
Fuel System : Direct injection, Electronic Fuel Injection
Fuel type : Petrol
DIMENSIONS
Dimensions (Lxwxh) in mm : 4190 x 1660 x 1695
Ground clearance (mm) : 200
Wheelbase (mm) : 2655
TRANSMISSION
Gearbox : Automatic, Manual
WEIGHT/CAPACITIES
Curb weight (kg) : 1160
Fuel tank capacity (L) : 45
WARRANTY
Manufacturer Warranty : 3 years / 100 000 Km
Retail Network : Toyota
Loading...
---
Models available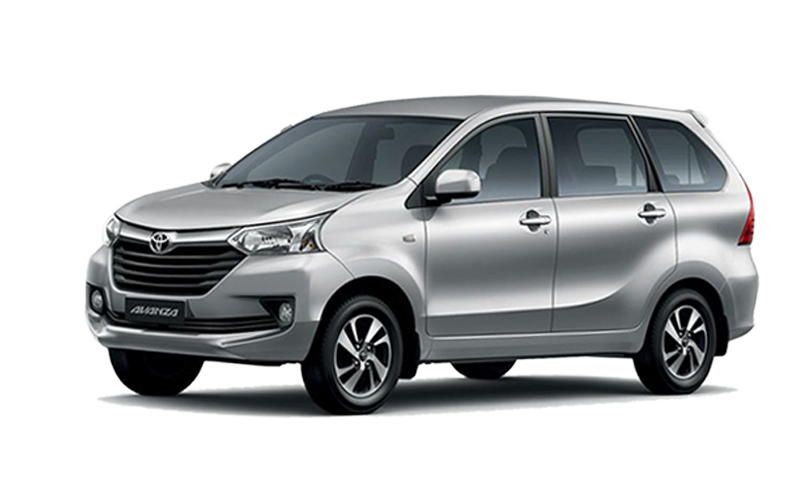 1.3L Base 5-Manual

Air conditionning

Airbags

Door unlock alert

Power windows

Spare wheel
Technical Specifications
Brochure
Avanza 1.3L Base 5-Manual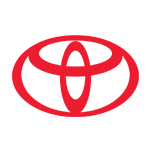 Technical Specifications
ENGINE

Displacement (cc)
1329
Engine Type
Cylinder in line
Fuel System
Direct injection, Electronic Fuel Injection
Fuel type
Petrol
Max power HP/rpm
97/6000
Max torque Nm
121/4200
Number of cylinders
4
Valves/cylinder
4

BODY

Number of doors
5 doors

DIMENSIONS

Dimensions (Lxwxh) in mm
4190 x 1660 x 1695
Ground clearance (mm)
200
Wheelbase (mm)
2655

TRANSMISSION

Gearbox
Manual

WEIGHT/CAPACITIES

Additional fuel tank capacity (L)
Curb weight (kg)
1140
Fuel tank capacity (L)
45
Gross vehicle weight (kg)
1680
Number of seats
7

BRAKES

Front brake
Ventilated discs
Parking brake
Manual
Rear brake
Drums

TYRES

Tyre dimension
185/70 R14
Equipments
INTERIOR & COMFORT

2nd row seats
Folding
3rd row seats
Folding
Adjustable steering wheel
Height and reach adjustable
Air conditionning
Manual
Car mat
Yes
Central door locking
Yes
Driver seat
Reach adjustable
Front seats
2
Gearshift & Brake lever
Urethane
Loud speakers
4
Power Steering
Yes
Power windows
Rear, Front
Radio
Radio CD
Room lamps
Yes
Steering wheel
Urethane
Steering wheel audio control
Yes
Sun visor
Yes
Sunvisor with mirror
Driver & Passenger
Upholstery
Fabric
User guide
French, English

ACTIVE SAFETY

ABS
Yes
Demister
Rear windows
Door unlock alert
Yes
Eletronic Brakeforce distribution (EBD)
Yes
Headlamps
Halogen
Seatbelt warning
Yes
Side turn lamp
Yes

EXTERIOR

Adjustable side mirrors
Manuals
Bumper - Front&Rear
Body colour
Door handles
Body colour
Door mirrors
Black
Folding side mirrors
Manuals
Front bumpers
Body colour
Front grill
Chrome
Mudguars
Rear, Front
Rear bumpers
Body colour
Wheels
Steel with hubcap
Windscreen
Laminated

PASSIVE SAFETY

Airbags
Driver, Passenger
Headrests
Front, 2nd row, 3rd row
ISOFIX fixings
Rear
Number of spare wheels
1
Seatbelt pretentioner
Front
Seatbelts - 2nd row
3 x 3 points
Seatbelts - 3rd row
2 x 3 points
Seatbelts - Front
2 x 3 points
Spare wheel
Steel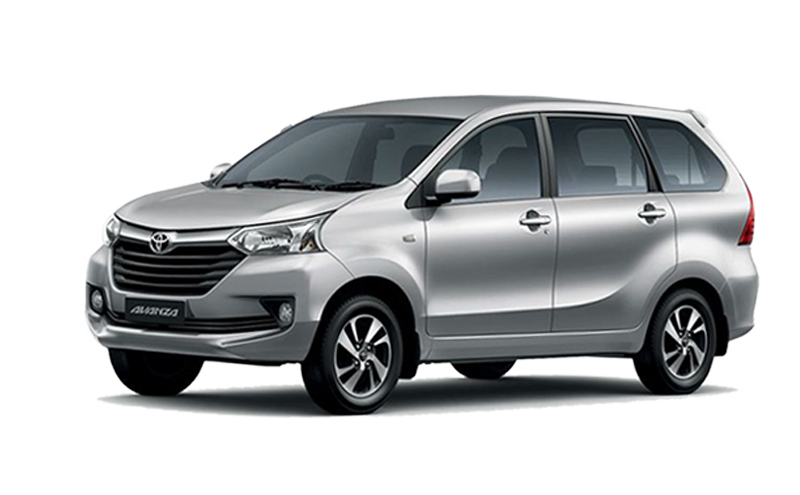 1.3L Access 5-Manual

Air conditionning

Airbags

Door unlock alert

Power windows

Spare wheel
Technical Specifications
Brochure
Avanza 1.3L Access 5-Manual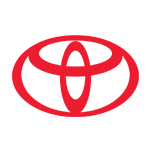 Technical Specifications
ENGINE

Displacement (cc)
1329
Engine Type
Cylinder in line
Fuel System
Direct injection, Electronic Fuel Injection
Fuel type
Petrol
Max power HP/rpm
97/6000
Max torque Nm
121/4200
Number of cylinders
4
Valves/cylinder
4

BODY

Number of doors
5 doors

DIMENSIONS

Dimensions (Lxwxh) in mm
4190 x 1660 x 1695
Ground clearance (mm)
200
Wheelbase (mm)
2655

TRANSMISSION

Gearbox
Manual

WEIGHT/CAPACITIES

Additional fuel tank capacity (L)
Curb weight (kg)
1135
Fuel tank capacity (L)
45
Gross vehicle weight (kg)
1680
Number of seats
7

BRAKES

Front brake
Ventilated discs
Parking brake
Manual
Rear brake
Drums

TYRES

Tyre dimension
185/70 R14
Equipments
INTERIOR & COMFORT

2nd row seats
Folding
3rd row seats
Folding
Adjustable steering wheel
Height and reach adjustable
Air conditionning
Manual
Car mat
Yes
Central door locking
Yes
Driver seat
Reach adjustable
Front seats
2
Gearshift & Brake lever
Urethane
Loud speakers
4
Power Steering
Yes
Power windows
Front, Rear
Radio
Radio CD
Room lamps
Yes
Sequential electric windows
Driver
Steering wheel
Urethane
Steering wheel audio control
Yes
Sun visor
Yes
Upholstery
Fabric
User guide
French, English

ACTIVE SAFETY

ABS
Yes
Demister
Rear windows
Door unlock alert
Yes
Eletronic Brakeforce distribution (EBD)
Yes
Headlamps
Halogen
Seatbelt warning
Yes
Side turn lamp
Yes

EXTERIOR

Adjustable side mirrors
Electric
Bumper - Front&Rear
Body colour
Door handles
Body colour
Door mirrors
Body colour
Folding side mirrors
Manuals
Front bumpers
Body colour
Front grill
Chrome
Mudguars
Front, Rear
Rear bumpers
Body colour
Wheels
Aluminium
Windscreen
Laminated

PASSIVE SAFETY

Airbags
Passenger, Driver
Headrests
3rd row, 2nd row, Front
ISOFIX fixings
Rear
Number of spare wheels
1
Seatbelt pretentioner
Front
Seatbelts - 2nd row
3 x 3 points
Seatbelts - 3rd row
2 x 3 points
Seatbelts - Front
2 x 3 points
Spare wheel
Steel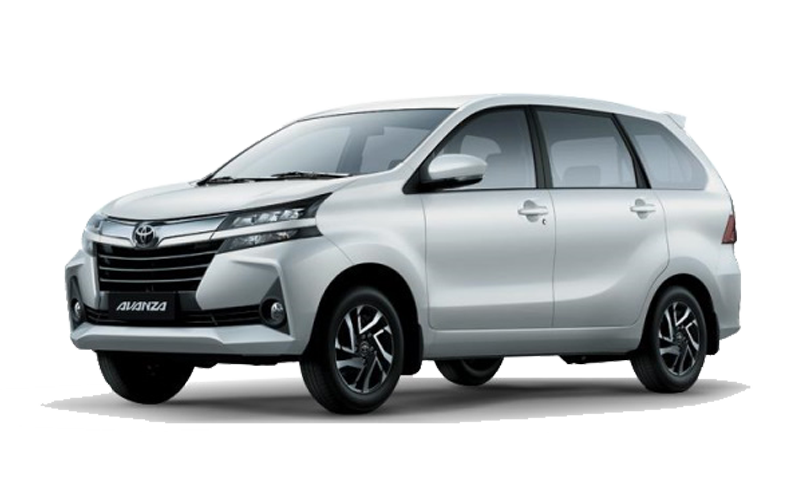 1.3L High 4-Auto

Air conditionning

Airbags

Door unlock alert

Power windows

Spare wheel
Technical Specifications
Brochure
Avanza 1.3L High 4-Auto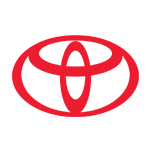 Technical Specifications
ENGINE

Displacement (cc)
1329
Engine Type
Cylinder in line
Fuel System
Direct injection
Fuel type
Petrol
Max power HP/rpm
97/6000
Max torque Nm
121/4200
Number of cylinders
4
Valves/cylinder
4

BODY

Number of doors
5 doors

DIMENSIONS

Dimensions (Lxwxh) in mm
4190 x 1660 x 1695
Ground clearance (mm)
200
Wheelbase (mm)
2655

TRANSMISSION

Gearbox
Automatic

WEIGHT/CAPACITIES

Additional fuel tank capacity (L)
Curb weight (kg)
1160
Fuel tank capacity (L)
45
Gross vehicle weight (kg)
1680
Number of seats
7

BRAKES

Front brake
Ventilated discs
Parking brake
Manual
Rear brake
Drums

TYRES

Tyre dimension
185/70 R14
Equipments
INTERIOR & COMFORT

2nd row seats
Sliding
3rd row seats
Folding
Adjustable steering wheel
Height and reach adjustable
Air conditionning
Manual
Car mat
Yes
Central door locking
Yes
Driver footrest
Yes
Driver seat
Reach adjustable
Front seats
2
Gearshift & Brake lever
Urethane
Loud speakers
4
Power Steering
Yes
Power windows
Rear, Front
Radio
Radio CD
Room lamps
Yes
Steering wheel
Urethane
Sun visor
Yes
Upholstery
Fabric
User guide
English

ACTIVE SAFETY

ABS
Yes
Demister
Rear windows
Door unlock alert
Yes
Eletronic Brakeforce distribution (EBD)
Yes
Headlamps
Full LED
High position brake lamp
Yes
Seatbelt warning
Yes
Side turn lamp
Yes

EXTERIOR

Adjustable side mirrors
Electric
Bumper - Front&Rear
Body colour
Door handles
Body colour
Door mirrors
Body colour
Folding side mirrors
Manuals
Front bumpers
Body colour
Front grill
Chrome
Mudguars
Rear, Front
Rear bumpers
Body colour
Spoiler
Rear
Wheels
Aluminium
Windscreen
Laminated

PASSIVE SAFETY

Airbags
Passenger, Driver
Headrests
2nd row, 3rd row, Front
ISOFIX fixings
Rear
Number of spare wheels
1
Seatbelts - 2nd row
3 x 3 points
Seatbelts - 3rd row
2 x 3 points
Seatbelts - Front
2 x 3 points
Spare wheel
Steel
---
Gallery